Skip to Content
Fire Extinguishers for Georgia Businesses
Fires can happen anywhere in a commercial kitchen, from trash cans overflowing with flammable papers and material to grease-covered gas ranges after the lunch rush. Having a fast solution to sudden flames and smoke is essential to protecting your business from burning down, or at the very least, having to evacuate your paying customers for the afternoon. With Hoods Unlimited, you can get fire extinguishers to douse the flames wherever they might catch. Our Georgia clients trust us to supply them with reliable extinguishers ready to use at a moment's notice in all sorts of kitchen settings, including restaurants and hotels. We value the welfare of your business, which is why our inventory of fire extinguishers is always up to code and highly effective on various types of fires. You can get any brand of extinguisher from us, including brand-new units, and we offer inspections on your current units. Inspections are required on fire extinguishers once a year. We also provide six-year maintenance and hydro-testing to ensure they stay in top condition.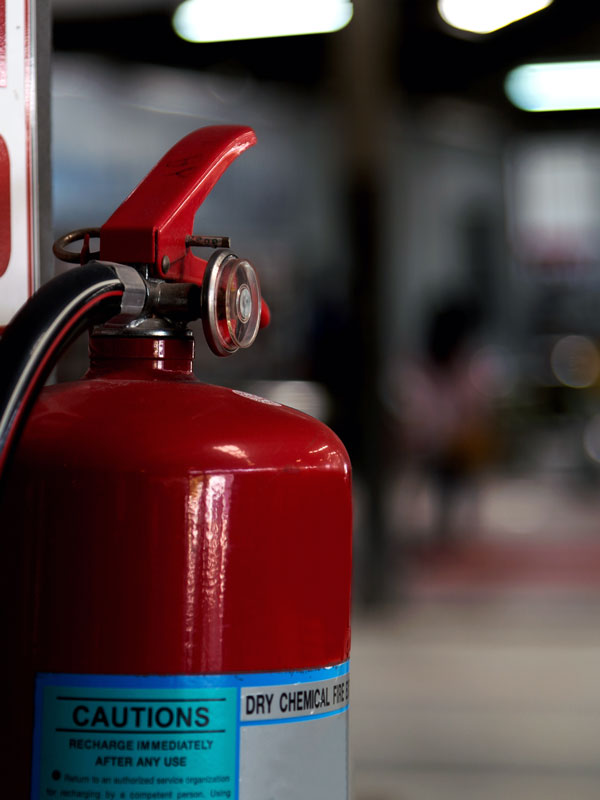 Common Types of Kitchen Fire Hazards
Every kitchen has common fire hazards that need to be dealt with responsibly to minimize the chance of an emergency. With a fire extinguisher, you can put out the flames when a fire does break out in your commercial space. Here are some examples of the most common types of fire hazards in a kitchen:
Grease Fires – Grease can quickly build up in a kitchen, and it's highly flammable when a fire occurs. You'll find grease residue on many surfaces, such as grease traps, vent hoods, and ducts.
Electrical Fires – A ripped or frayed wire can quickly result in a fire in your kitchen, including those on devices you regularly use and the wires out of sight. If you overload an outlet, it can also lead to smoke and flames.
Flammable Clutter – Busy restaurants and hotels can have boxes and bags pile up from shipments, deliveries, and daily operations. This clutter can act as kindling for a fire and block your exits and pathways to safety.
Open Flames – The lit burners in a commercial kitchen can be hazardous when combined with aprons, towels, and other cloths and flammable materials. A loose sleeve can easily catch from the flames while your staff hustles to take care of tables and to-go orders.
Get Protection for Your Business
All commercial buildings are required by code to have fire extinguishers.
All commercial building's fire extinguisher are required by code to be inspected and maintained by a certified technician annually and we provide that service.
We sell new and used fire extinguishers.
The team at Hoods Unlimited will help you choose and care for the fire extinguishers your commercial kitchen needs. Get in touch with us today to find out more about our selection of protective equipment.
Call Us for Fire Prevention & Protection